Good morning Occupiers!  Yesterday was a huge day with a massive wave of protests against the Stop Internet Piracy Act and Protect Intellectual Property Act sweeping the nation and the Internet.  With more to come on J20 this is definitely a busy week for Occupy!
Occupy Syracuse is 

facing eviction

 by city officials and need all the Occupiers they can get to remain in place.  Good luck!

A new Occupy Boston working group has formed to fight recent hikes in MBTA fees and cutbacks in service.  They argue these changes hurt the people of Boston with no real benefit to the city.
Occupy Atlanta successfully thwarted the attempted foreclosure eviction of the historic Higher Ground Empowerment Center by camping out on the lawns of the property.  Great work Atlanta!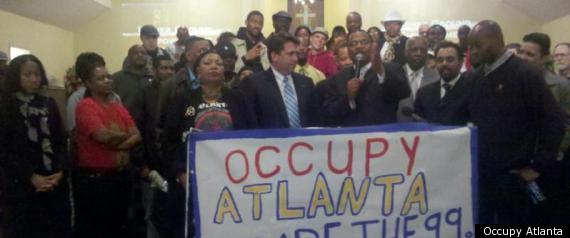 Occupy Detroit has just posted video and pictures from their Martin Luther King Day march.  Check them out 

here

.

And finally we have a few legal victories to report.  The Albany, NY District Attorney has moved back the trial dates of several arrested activists and, so far, has declined to press charges against any Occupiers arrested in Albany.   In St. Louis 9 Occupy activists arrested for Occupying Kienar Plaza were sentenced to "Time served."  Here's hoping more judges, prosecutors, and police follow the example of these brave civil servants and stand with the 99%.
Good luck on J20 everyone, stay safe, stay smart, and solidarity!